First year of Competitive Rainbow Six: Siege has been a blast, with 3 seasons going from March to November. It ended in February with The Six Invitational (on PC and Xbox). We are now a bit further down the Year 2 road, and things have evolved quite a bit since last year. For starter, the roadmap and formats are different: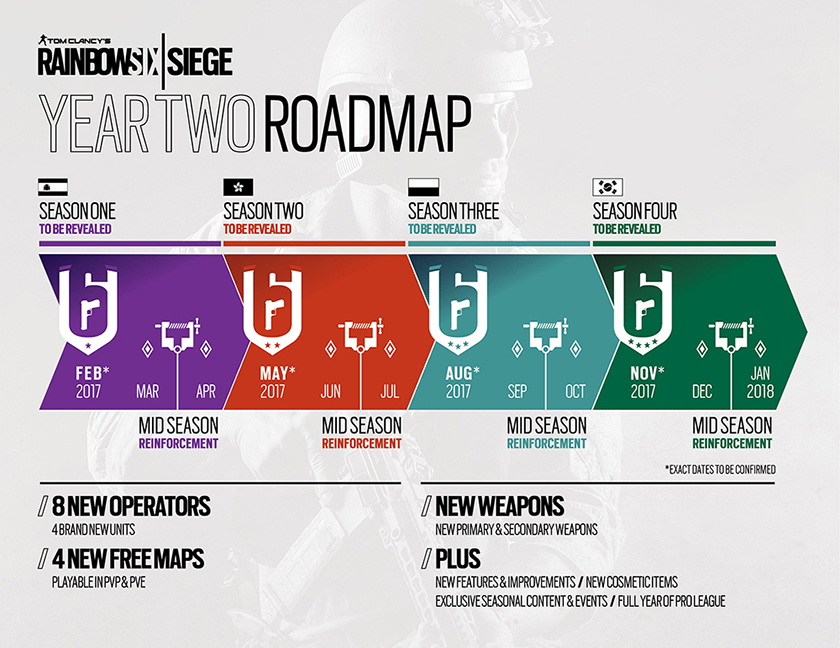 Just like last year, each season will see a Mid-Season Reinforcement, with major updates, new maps and operators being released into the game. The Velvet Shell Reinforcement introduced a brand new map, Coastline taking place in Spain, along two new Spanish operators:
Jackal, the attacker who can track your footsteps
Mira, the defender who can see through walls
As for the competition, 8 teams from each region will take part in the Pro League, consisting of regional group matches leading to the qualification for the Regional Playoffs. As for this first season, in case you missed anything, here are the results with replays:
Now that the groups are over, we are moving on to the LAN Regional Playoffs! Semifinals in North America have been played already, with the great absent being Continuum, current PC Champions, eliminated during the Group Stage.
As for Europe, the matches are scheduled to start on the 27th of April (as in tonight if you read this article the day it gets out!), and high level of play is to be expected!
Finally, last region, but not least, Latin America will see its semifinals be played on the 30th of April, after all 4 qualifying matches got dragged all the way to 3 games, and what games!
Stay tuned for more Rainbow Six: Siege action, and why not take part in one of our Community Open Tournaments yourself?