In this article, you will learn how to create and share your esports event website, with all its tournaments, thanks to the latest Toornament features.
Historically, in the 90s, esports saw light with the organization of Lan Parties, all around the world. From tiny events to massive productions, those shows usually proposed more than one tournament to their visitors and gaming communities. It was not rare to have some of them gathering thousands of participants split between dozens of tournaments.
LAN Parties still often bring together a wide variety of games requiring very different tournament formats and score systems.
Fortunately, thanks to the flexibility of the Toornament organizer software, you can manage any title, be they racing, battle royale, card or FPS games. No need to have different tournament management tools and split your participants and staff between them anymore.
With that settled, Toornament offers two solutions to easily display and share your event. Let us have a look!
Toornament public pages
The first solutions makes use of the competition circuit feature, with which you can regroup and display multiple tournaments on the same page.
Once your competition circuit is created, you can associate any tournament with it. You can also setup your competition circuit by adding information about your event such as a logo, description and dates.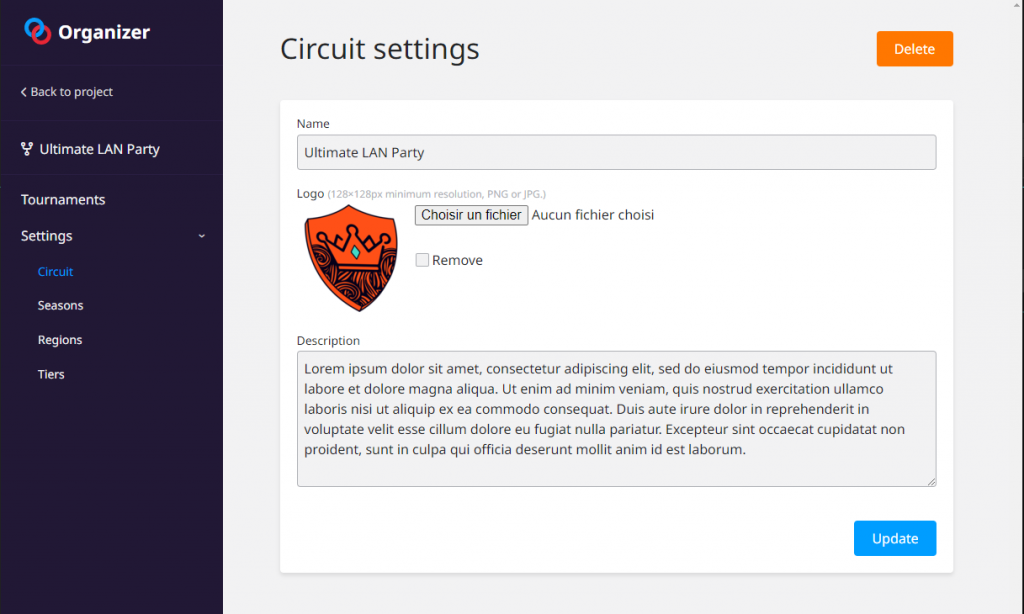 A circuit lets you categorize your event tournaments according to your needs. For example, you can create a distinction between platforms, types of games or participants (solo or team).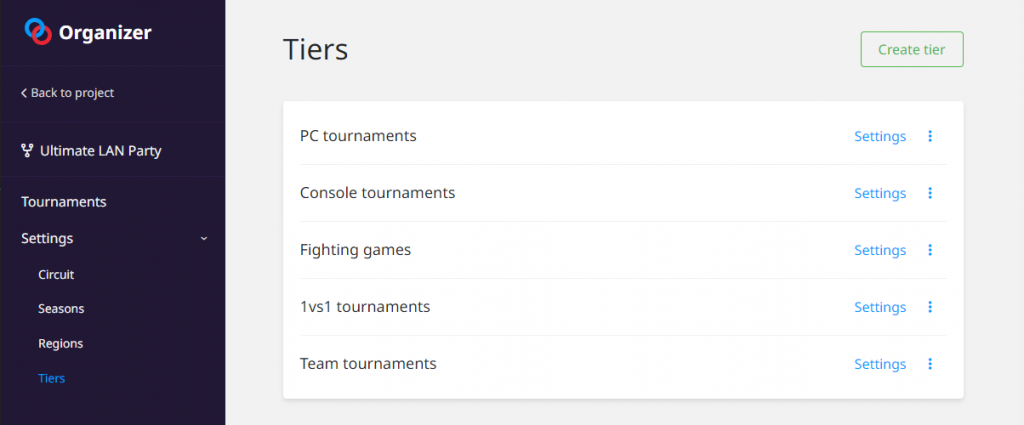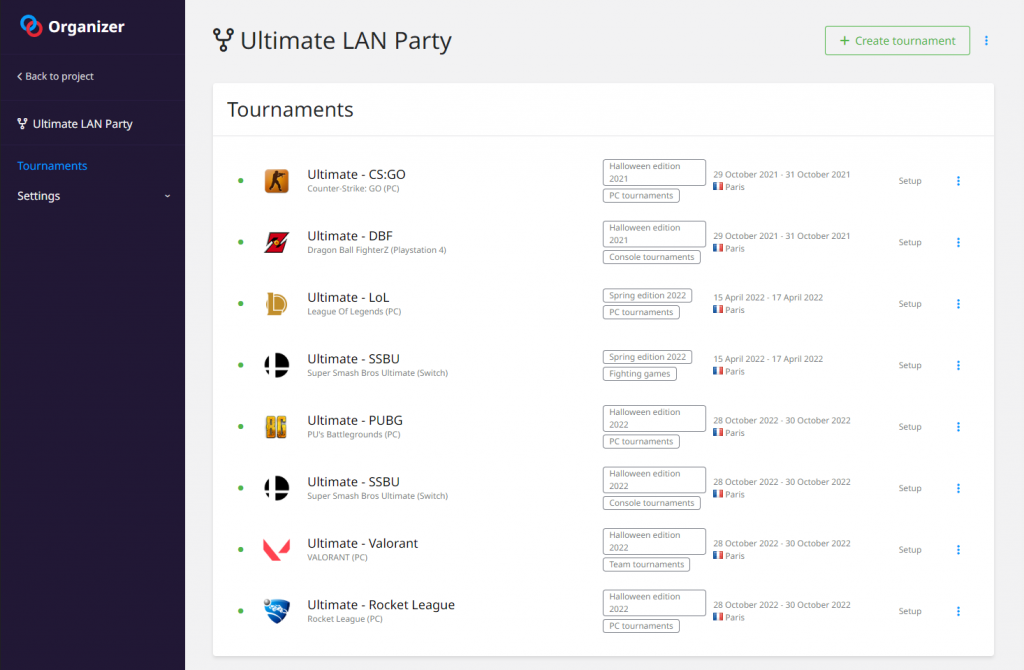 You can create one circuit per event edition, or regroup all of your editions into the same competition circuit with seasons. Thus, if you have tournaments from older events on Toornament, do not hesitate to associate them with your circuit, and create seasons to organize them.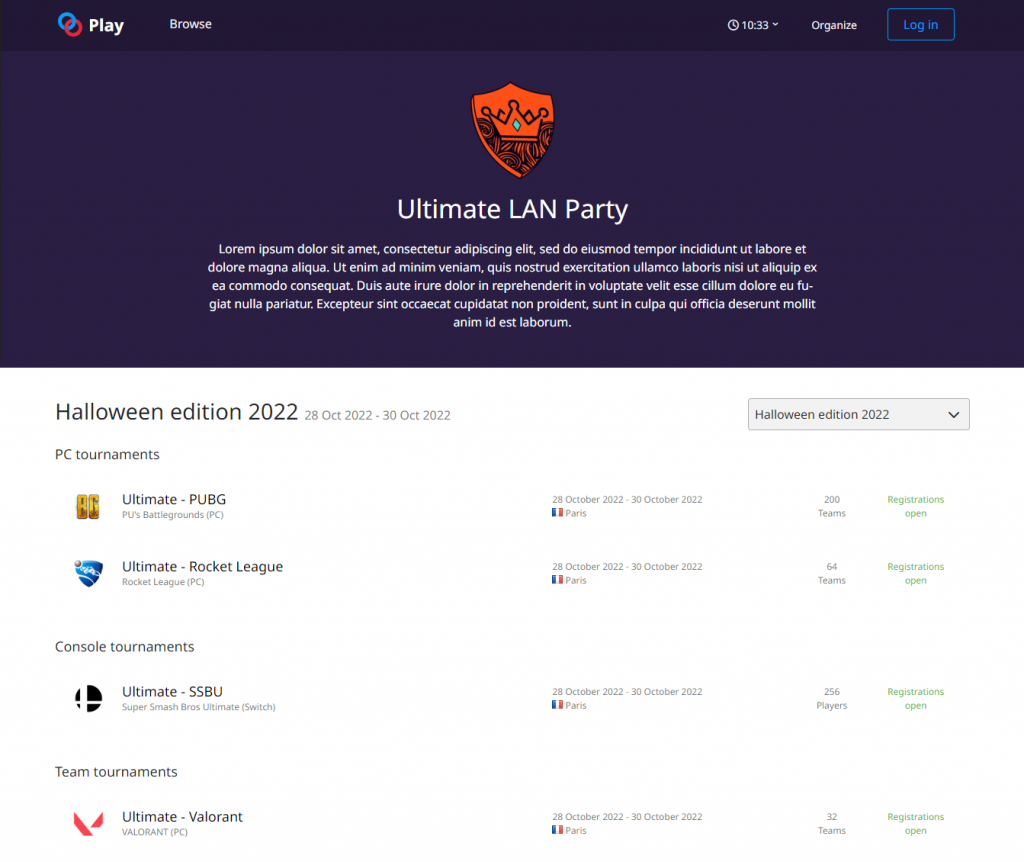 Now, you have a one page event with all your editions and their tournaments associated and listed neatly: competition circuit example.
You can now directly share your tournaments on social medias or other channels with a single link.
Dedicated event website
The Tournament website builder is the perfect solution to produce a fully-branded event website with its tournaments' results and information automatically displayed. No more waiting for your developer or the budget needed to design it from scratch.
The process is very simple and starts the very same as for the first solution listed above. You start by creating your competition circuit and associating tournaments with it.
Then, from the website builder section, you create a new "Circuit" website, name it and associate it with your circuit.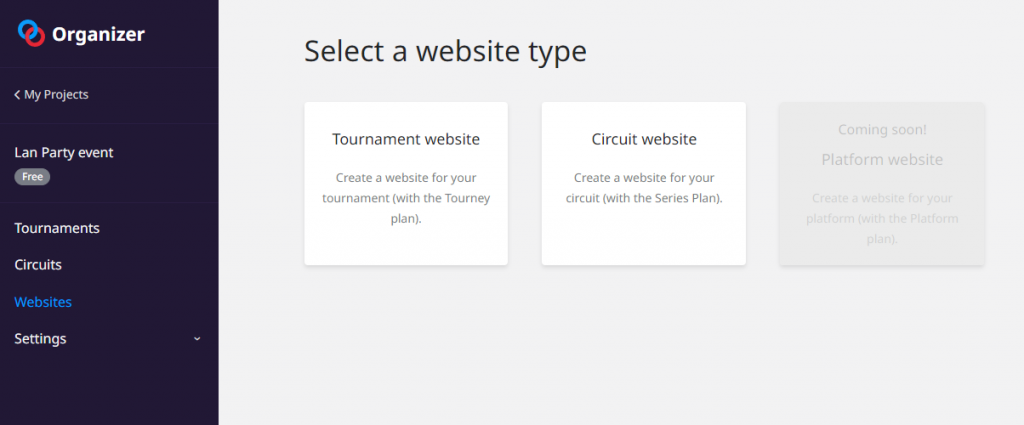 It is now up to you to start designing your website from a blank page, or use one of the turnkey templates to get a headstart.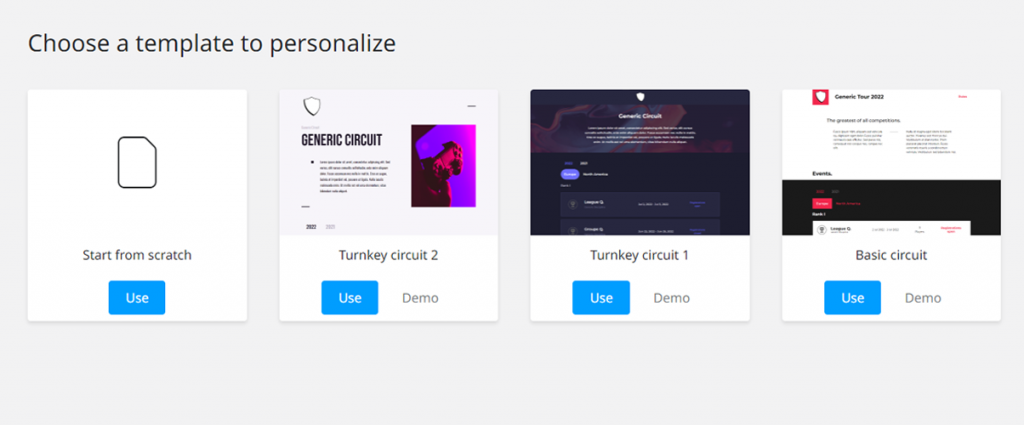 In both cases, you can then customize the website to fit your needs. Everything can be changed, from the fonts and colors to spacings and overall layout.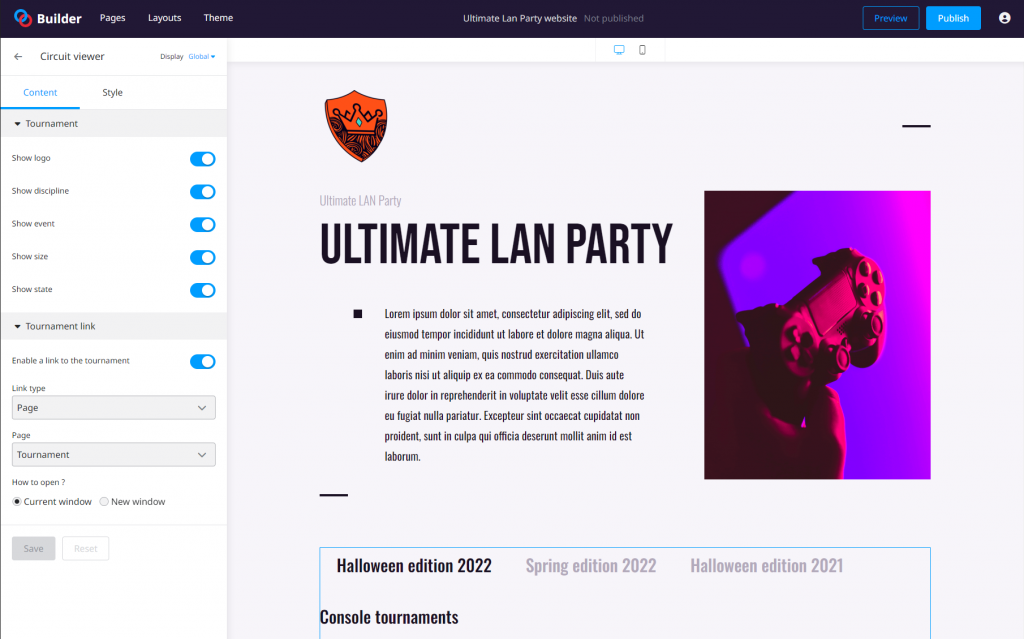 From there and with a few adjustments, you will have your own event competition website that can include:
its own domain name
sponsors & partners logos anywhere
dedicated results' page for each tournament
live streams and VODs embed
any additional pages for your event additional information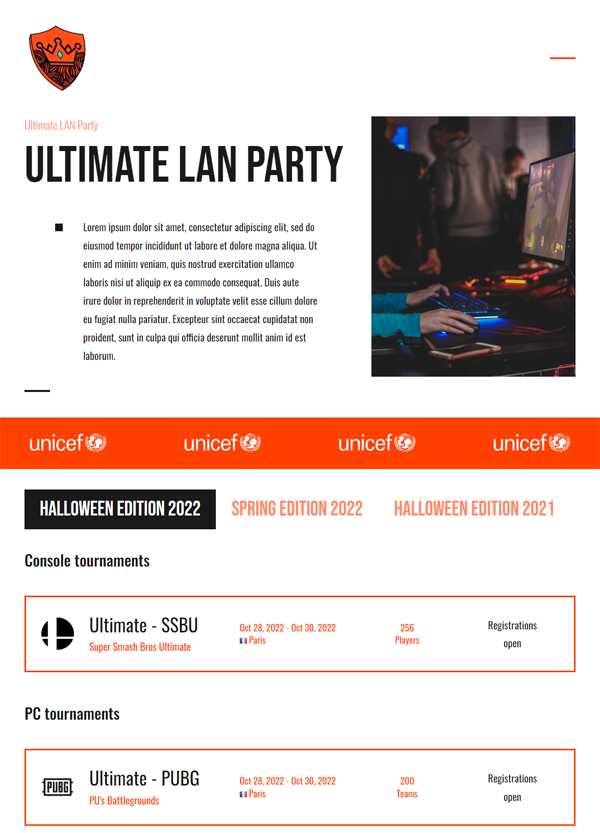 Website with multiple tournaments and event editions adapted from
a turnkey template
And don't worry, our customer success team is here to onboard you on the website builder use with training and tips.
Whatever solution you decide to use, it is ready for you to come and start your esports journey with a competitive circuit, and all the tools you might need to make it successful!