| | |
| --- | --- |
| | V2 Release: detailed game statistics are currently unavailable, but will come back as soon as possible. |
To display the advanced statistics and information from your League of Legends match in Toornament, you just need to add its "Match URL".
Here's how to do it:
1. Open the LoL client
2. Go to a Player's "Match History"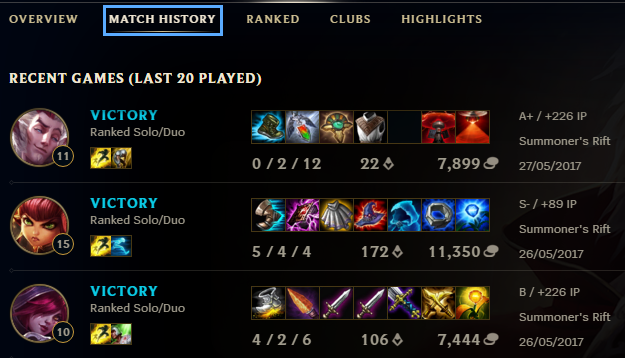 3. Pick a match and click on "View on the web"

This will open the Match webpage in your browser. All you have to do now is to copy/paste the Match URL in the Match report.
This also works with LCS matches, if you happen to cover them. The URL differs a bit, but it doesn't matter.
Please note that games have different status :
Ranked games are visible to everyone
Normal games are only visible to LoL logged users
Custom games are only visible to the game participants
As non-LCS tournaments are played like "Custom Games", you must then ask one of your participants to provide you with the game URL.