All tournament management softwares provide a match result with a score, but often without the possibility to automate the calculation, especially when this score is a time. Toornament allows that now, and it makes managing race and speed run competitions even easier!
The score type based on the duration works for all your competition with match including more than 2 opponents and using one of our FFA structure. Thus, during your FFA stage creation process, you can decide whether the score type will be based on points or a duration, from the "Advanced" section.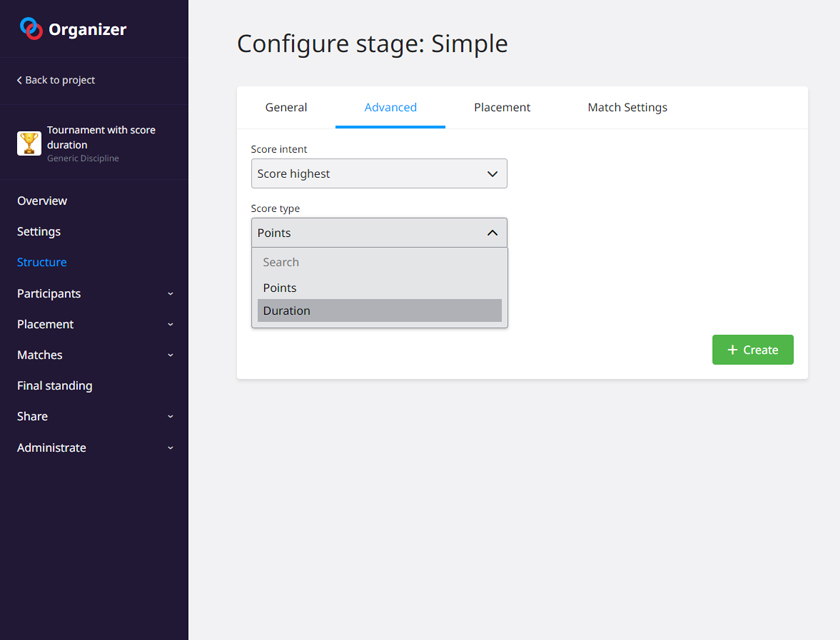 There, you can also decide the "Score direction", be it "Highest" or "Lowest". It means you can choose if the participant with the lowest score or time will either be first or last in your ranking.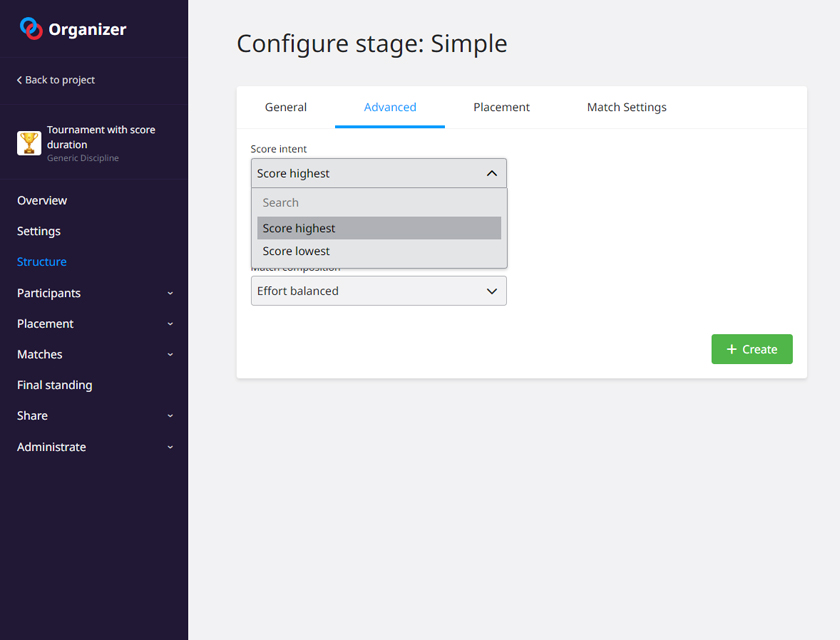 Score type duration is compatible with our numerous match formats and advanced calculations: the final result of a match can be the aggregated time of all of its games.
When using time as score, you can enter a value ranging from hours down to milliseconds.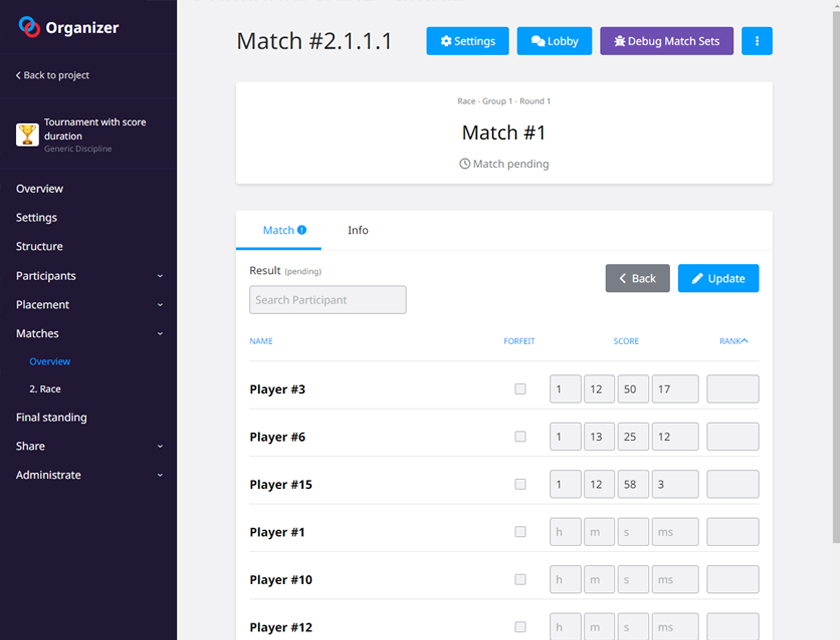 For more information on how to use the duration as score you can visit our Help Center which has a new dedicated article on it: https://help.toornament.com/match/time-as-score
Use cases of duration score
Find below a few examples of how time can be used as score:
Speedrun event
Setup example for a speed run event with more than 2 participants per match:
Structure type: FFA
Stage type: Simple Stage
Match type: Single Game
Score type: Duration, Lowest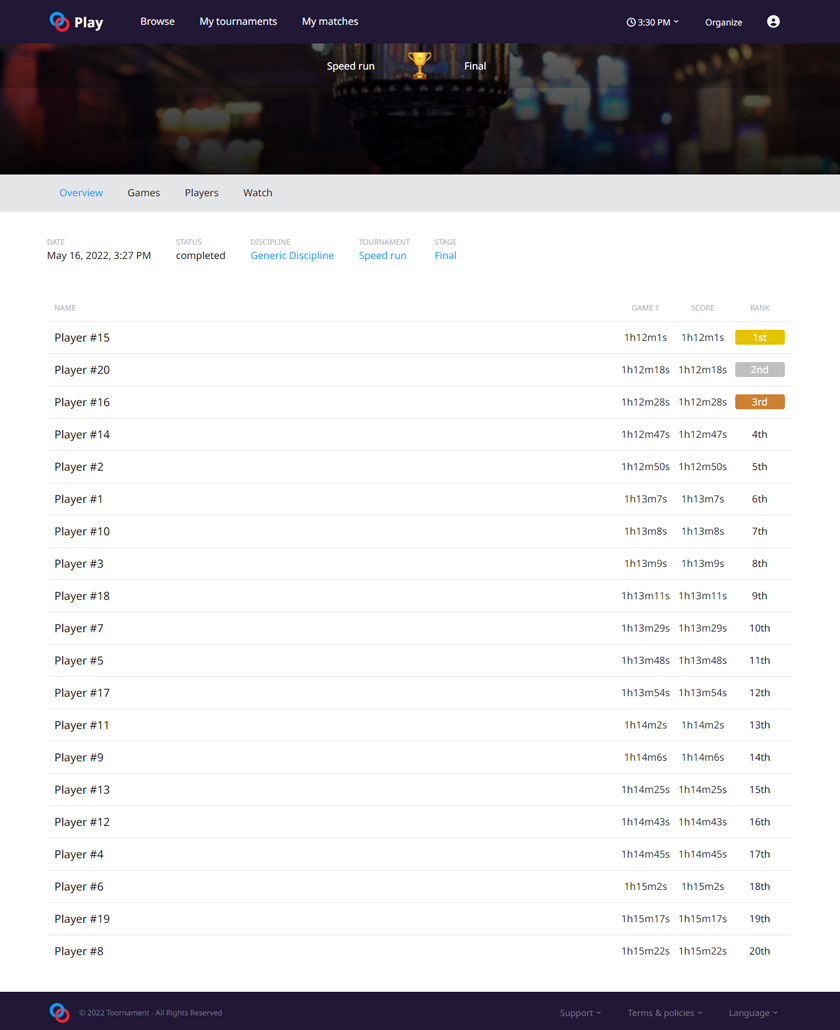 Racing cup
Setup example for a racing cup with players split in a bracket stage, with 4 players and 2 winners per match:
Structure type: FFA
Stage type: Single Elimination
Match type: Single Game
Score type: Duration, Lowest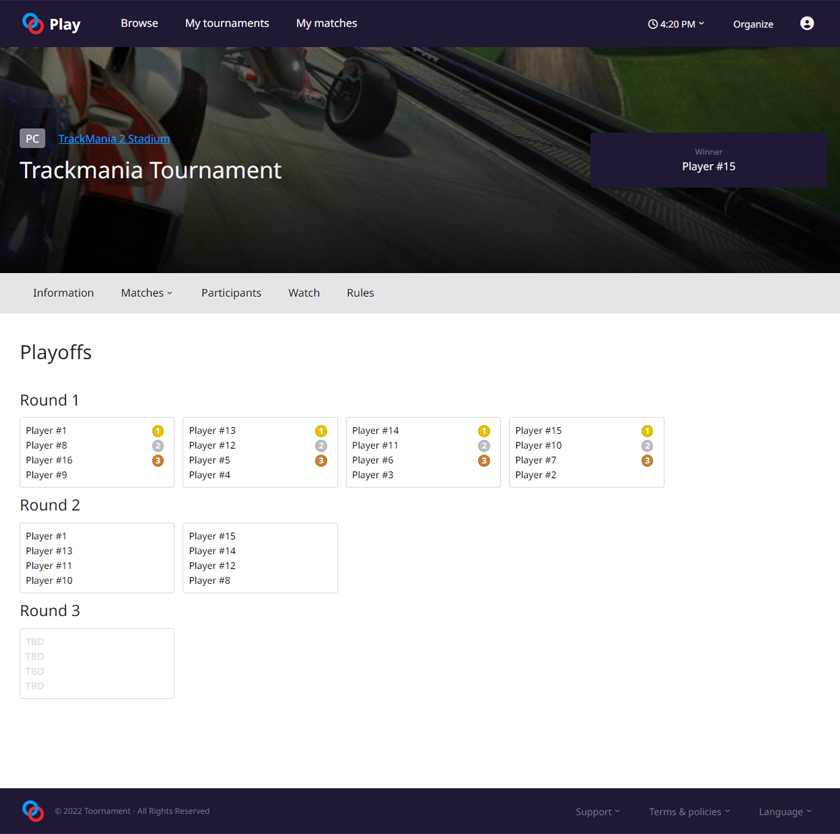 Rally Championship
Setup example for a championship of 5 races of 10 teams:
Structure type: FFA
Stage type: Simple Stage
Match type: Fixed Game (5 games)
Score type: Duration, Lowest with score-based calculation to aggregate all 5 times into the match final score