For a few years, gaming centers have been popping up around the world and are yet an other sign of an ever-growing esport market. However, while at the beginning of the 2000's, gaming centers were more of an underground and discreet little place, they are now a very bright and high tech open space, with colorful decoration, giant screens and all the latest equipment.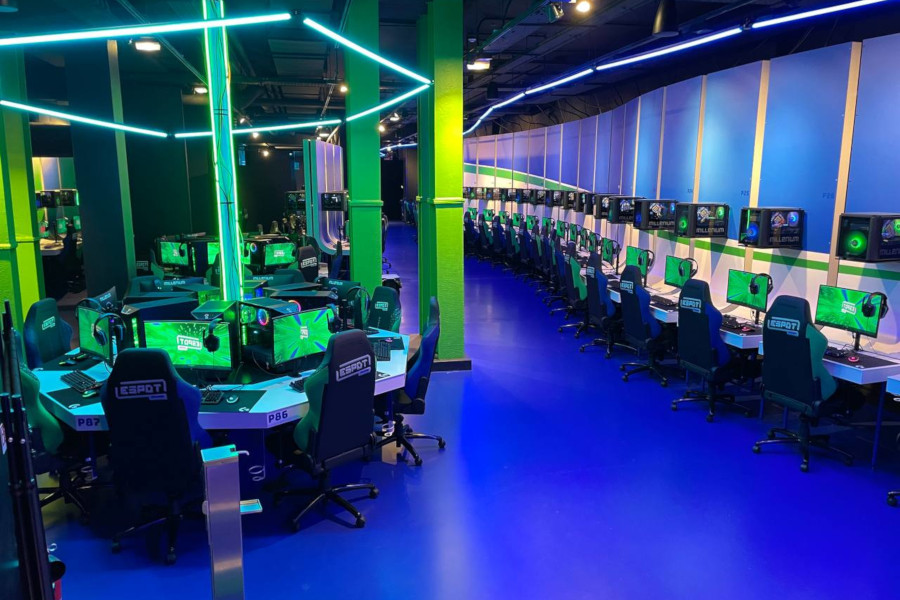 Espot Paris is a 2,000m² gaming center with 100 gaming PC in Paris
These new-generation gaming centers are the new place for players to meet and enjoy their esport and video games passion. Famous esports clubs understood it, and launched their own gaming centers such as Team Vitality with the V.Hive in Paris, Astralis with the Nexus in Copenhagen or Team SoloMid in Los Angeles.
New gaming centers networks have also seen the light of day like Belong in the United Kingdom, Helix Esports in the United States, Espot in downtown Paris. Even traditional sports companies are looking into this new trend. As an example, Monumental Sports & Entertainment has just unveiled plans to create an esports-focused 1,300m² facility in Washington D.C.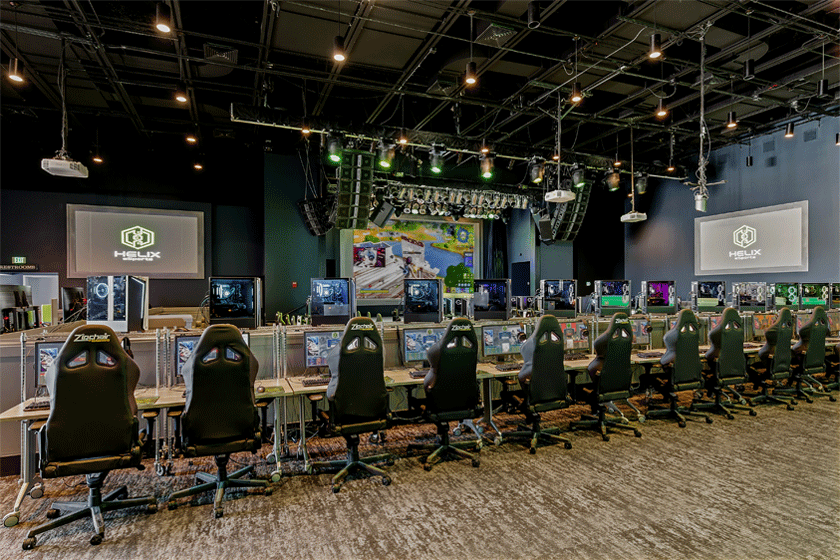 The Helix Esports Patriot gaming center in Boston
Build loyalty with tournaments
Once opened, the main goal for all these new places is to attract and engage their audience with recurrent events. Regular tournaments are one of the best ways to do it, but it requires great adaptability from the facility staff to offer tournaments on different games, when they each have their specificities: particular schedule, structure and match format, number of players per team, placement, registration process etc.
The gaming centers staff already has plenty of work to do daily to manage the establishment. Thus, creating and sharing tournament quickly is a crucial point. The Toornament platform is here to help them multiply tournaments and not lose time with their creation process and promotion towards the players.
One place to do it all
From double elimination bracket to FFA or Swiss system, you will often need to vary your formats and adapt them to many tournament parameters. Fortunately, Toornament offers the widest choice of structure with 10 competition formats supported. Moreover, to fit your specific needs, you can add several structures in the same tournament such as starting with a round robin stage followed by a gauntlet bracket.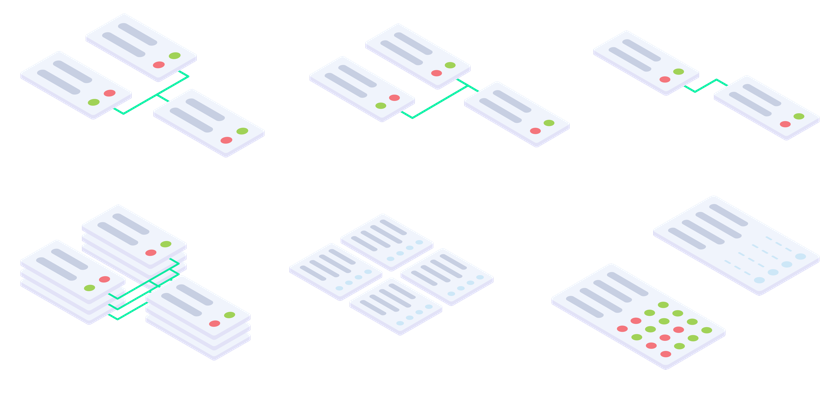 Once you have chosen your structure, you can configure the format of your matches and score calculation in a very detailed way. From single game to best of, with home & away or fixed sets formats in between, the choice is entirely yours.
Same goes for how you want to place the participants into your tournament. Whether you've decided to do a random draw, seeding or manual way, Toornament allows it for each stage.
According to your match format and structure, Toornament proposes the widest choice of stage tiebreakers and ranking calculation. You will never again have a headache to handle your participants' drawing process or tiebreakers. Once configured, Toornament will do it automatically for you.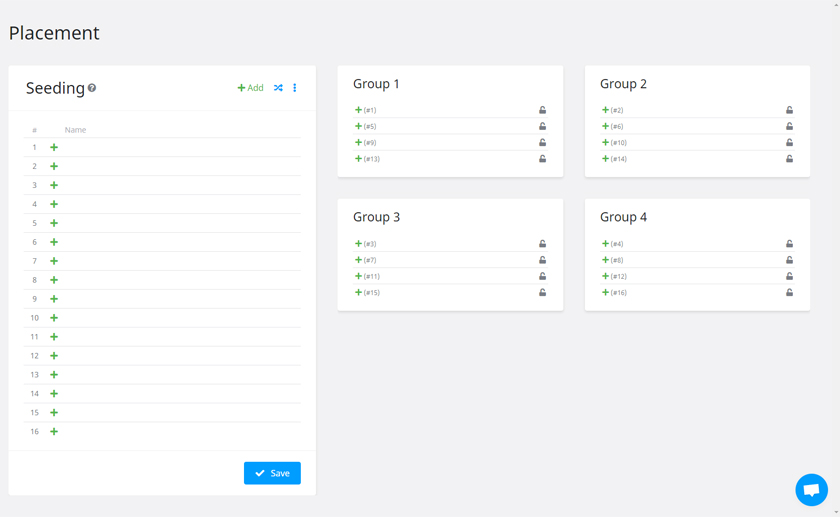 With all of this, you won't waste time jumping from one tournament platform to another to find the right one for your needs.
Adaptable registration process
To avoid having to create and manage the participants manually, you can allow them to register directly in the tournament, be they single players or teams. They will have to provide the information you request from them, for themselves and their team members if applicable.
You hold the reins over the whole process, and can use custom fields to gather data from your participants. It's also possible to add instructions, specific terms of use and other information directly on the registration form.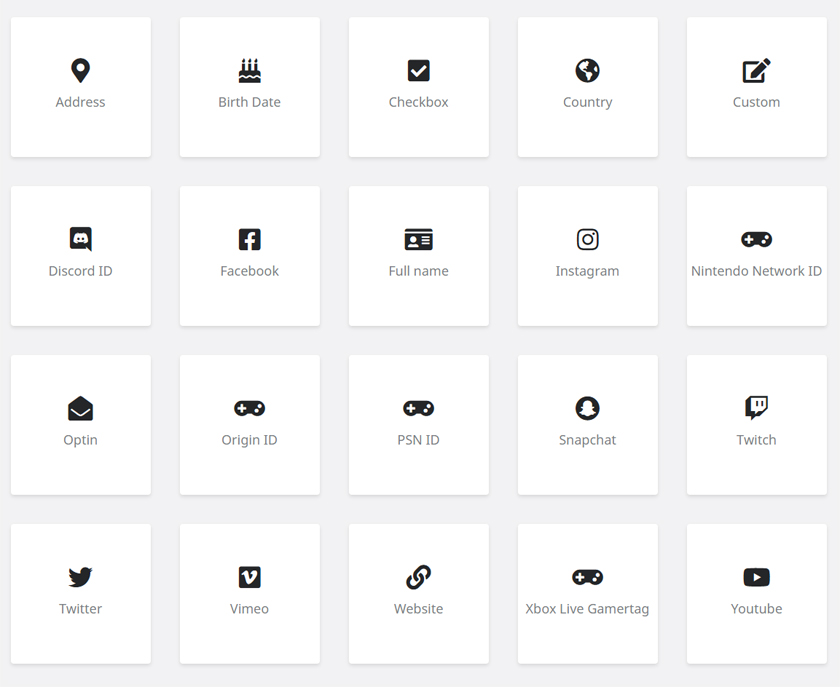 You may choose to automatically accept each and every participant, or base your decision on the information they provided. Customize the messages they will receive after their participation has been approved or denied.
Organize and repeat it
To not be lost in your numerous competitions, the Toornament back office allows you to create Project folders with which you can sort your tournaments. Thus, it is easy for the organizer to classify and retrieve a specific tournament, to duplicate it for example.
Once the organizer has found the ideal tournament format and settings for a game, you often want to repeat it. With Toornament you can duplicate in one click a specific tournament, and especially select which settings you want to keep in the new one.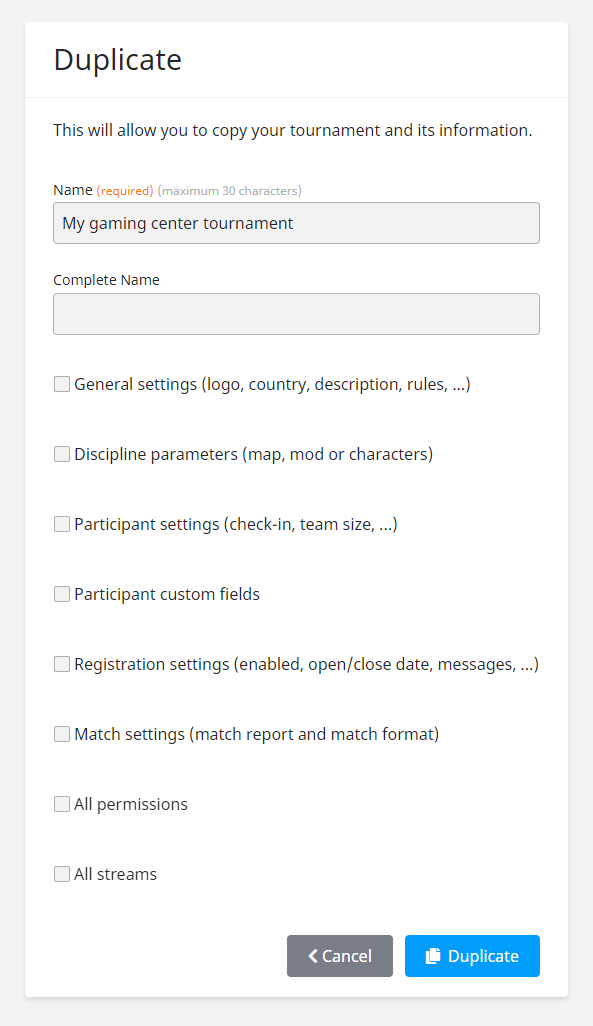 Create your own gaming center white-label experience
Toornament offers public tournament pages on which you can redirect your audience.
However, offering competitions in its colors is essential to reinforce belonging to your gaming center  and the image that it reflects. Toornament provides different tools to create white-label competition and display them in your own gaming center colors.
With Toornament you can enrich an existing website by adding it a single line of HTML to insert a dynamic Widget. Use it to display the tournament data you want, bracket, ranking, schedule, results etc.
For a tailor-made experience our integrated website Builder and its WYSIWYG interface allow to create a competition website that fits gaming center visual identity. It's domain name can be redirected to yours while we host and maintain the website to ensure security and tranquility.
Finally, with our API you can create your own esports platform for your gaming center network, in true white-label manner, including the players' experience. You can rely on Toornament player accounts or your own account system. Our powerful API and guidelines provide all the tools for developers to achieve it.
Toornament will be your best ally to manage regular tournaments for your gaming center's audience and showcase them in your colors. For knowing more more about Toornament solutions and request a demo, do not hesitate to reach out to us via our contact page.