Toornament is an open esports platform, and as such, we have huge communities of players from the Triple-A and leading esports titles, but that does not mean we shun other games or communities, quite the contrary actually!
We have always had a down-to-earth approach about smaller and indie games, in that they might just be the next phenomenon, and bring something new to the table.
As such, we strongly believe that all games that want to go competitive deserve their spot on the platform and we want to make everything we can to make them feel at home. This way, they will have access to all the features that enable a great competitive environment.
We regularly add new games, big and indie, on the platform, and part of our latest batch was Ultimate Chicken Horse by Clever Endeavour Games, an indie party game that wanted to provide their community with tools to organize their competitions and tournaments.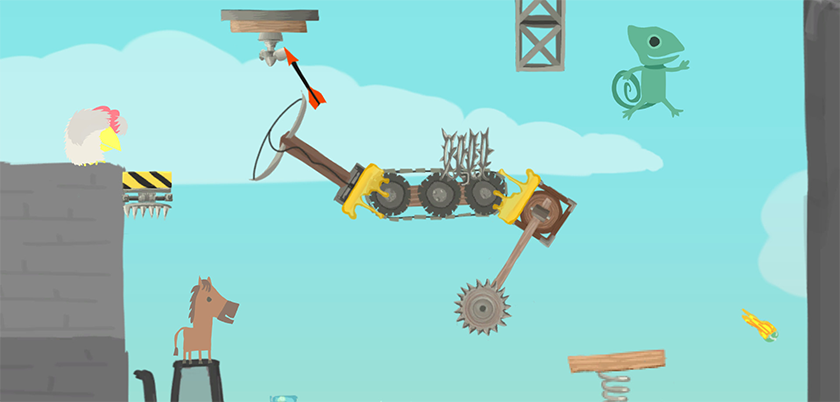 Ultimate Chicken Horse is a party game in which you place traps on the level, and try to reach the finish line before your opponents
"Some of our community members there were already running fan tournaments, and ever since we've been meaning to help them do so by providing our support as well as the right tools to make their lives easier.
Due to the free-for-all design of our game, we needed a platform that integrates the 1v1v1v1 format for tournaments. We're also excited about Toornament TV, because we have seen a lot of demand for the streaming of tournament matches."
– Genevieve Leblanc, Clever Endeavour Community Manager
So we worked together, and added their game as a discipline on Toornament, for everyone to be able to organize tournaments, from the evening friend-gathering to official events.

"We're looking forward to seeing the events that the competitive part of our community will organize on Toornament, and hoping to see that community grow more thanks to the platform! This promises to be a big step towards better organization and sharing potential. We don't have specific plans yet as organizers, but we're hopeful that this will allow us to feel like Clever Endeavour can take a more official role in running tournaments before long."
– Genevieve Leblanc, Clever Endeavour Community Manager
We want to welcome the Ultimate Chicken Horse community on Toornament, and we are also eager to see what they come up with!
If you want your game to also get added to Toornament, for your players to enjoy our features, feel free to contact us!