With the Version 2 and its new structure system, we had to come up with a unified placement feature that would fit the role while allowing maximum flexibility. We decided to merge the seeding and placement aspects into a single interface where you can add participants into the phase (because you have to remember that now, all participants don't have to start in the first stage of a tournament, and can be freely sent into different stages) with a multi-selection modal window. A seed is then attributed to them depending on the order you pick them.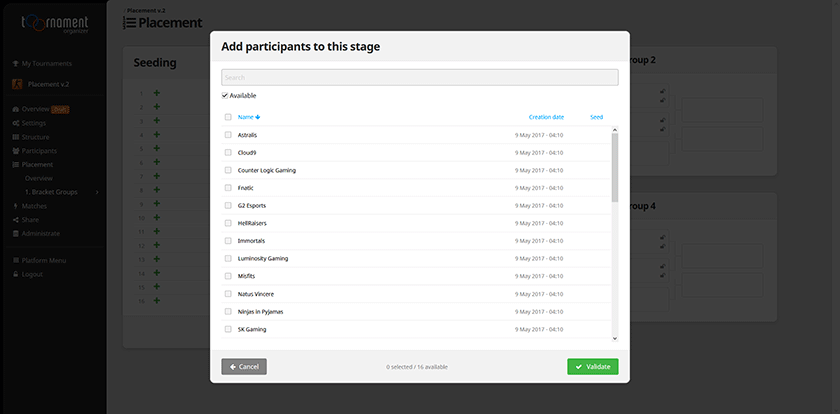 Selection modal in Toornament v.2
From there on, you can manually modify the seeds, and it will naturally modify their placement in the structure accordingly, either in the list on the left, or directly inside the preview on the right side of the screen, just like you use to do in the current version.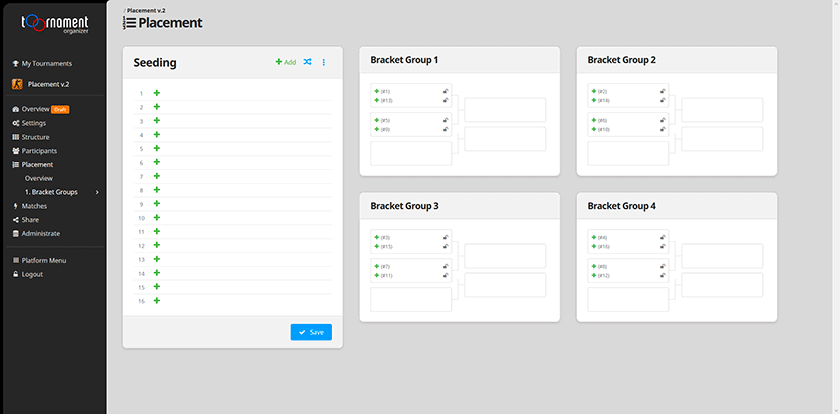 Placement interface in Toornament v.2
It is now also possible to lock some of the participants in their attributed seeds. This serves one major purpose: locked seeds won't change if you randomize the participants into the stage, meaning you can have seeds stay in place while you randomly add participants into the stage. Furthermore, re-generating a stage (by changing its size for example) does not alter the seeds, meaning all seeded participants will keep their seeds, and locked ones will remain locked.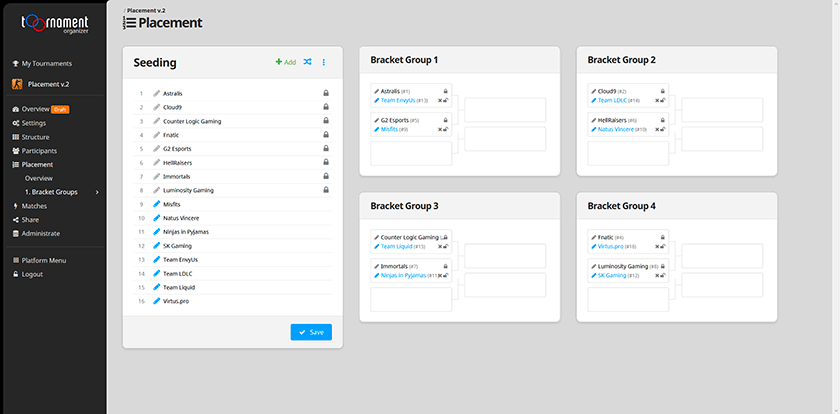 Locked participants in Toornament v.2
Another major change is that this interface is now basically a preview, meaning you can edit things, try and test things out, but ultimately, nothing changes until you save.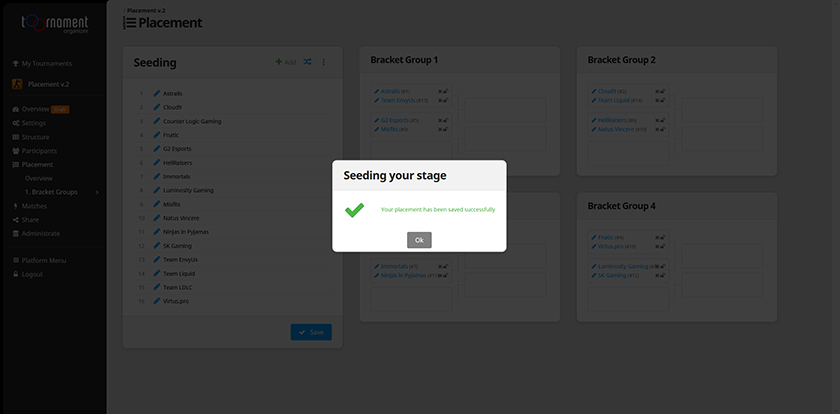 With this new system, it is still possible to manually place each and every participant, either all at once before starting your tournament, or step by step, even after the stage matches have started (but a participant with a result in one of its matches will become locked).
Plus, combined with the new structure system, this will allow for stages played at the same time (like several groups played in different stages, qualifiers or anything you might think of), you will be able to add and play tiebreaker matches, or showmatches…
There is one downside to reaching this level of freedom though, and it's the loss of hard connections between stages, meaning there is no automatic method between stages, so for example, when your group stage is over, you're going to have to select the winners from said group stage and seed them into the playoffs stage yourself.
But that is a small price to pay for all the amazing things you will be able to do with this new system, and we're not done working on it just yet!